ANGAT Leading People to Higher Ground
At the time of the conference, we expect a momentum already building up towards regaining, and making up, for lost ground (from surviving, to transitioning, to actually thriving). The focus will be on sustaining the momentum.
The Conference will highlight the critical role of HR as transformative leaders mandated to bring people (and the organizations they represent) to higher ground.
The conference as a platform to launch a movement to inspire Filipinos, Philippine HR, and HR professionals to dream big, aim high, and be better.
A conference that will be transformative - inspiring, enabling, and ennobling.
2021 Annual Conference Tracks
- Agility as strategy (Digital, Design Thinking, Innovation)
- Nobility in purpose (People First, Filipino in orientation)
- Governance-driven (Inclusive, Ethical, Global standards)
- Action-oriented (Execution-focused, Best Practices)
- Technology-enabled (Maximizes technology, data and science)
Now on its 58th year, PMAP's Annual Conference will bring in local and global experts to talk on pressing issues about business and people management.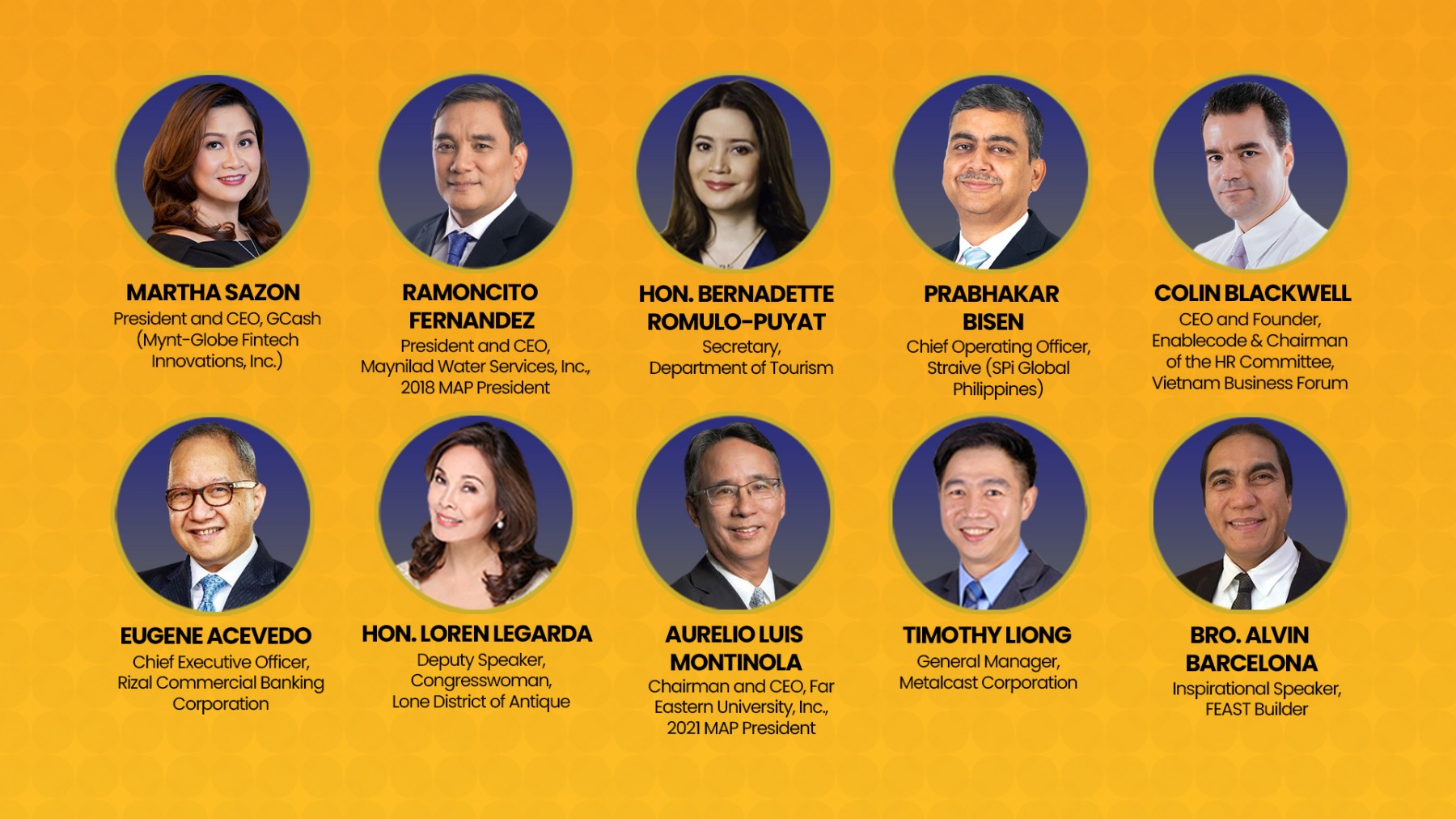 Conference Date / Venue
58th PMAP Annual Conference
July 28 to 30, 2021
Registration:
Mobile #: 0917 273 1912     
Email : kevin.jacinto@pmap.org.ph
Sponsorships
Mobile #: 0917 580 0038
Email: carol.alcances@pmap.org.ph
CONVINCE YOUR BOSS
Download and customize this letter template to organize your case for wanting to attend PMAP Annual Conference.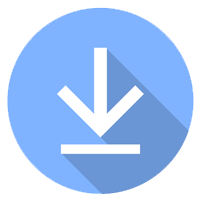 Time
Activity

Opening Ceremonies

(Luzon, Visayas, and Mindanao Summit)

Plenary Sessions

(Luzon, Visayas, and Mindanao Summit)

Opening Ceremonies

Opening Prayer

National Anthem

PMAP Hymn

Opening Remarks: ANGELINA M. MUKHI, FPM, PMAP President

Conference Theme: ELLEN C. FULLIDO, PMAP Vice President

OPENING KEYNOTE SESSION:

LEADING PEOPLE TO HIGHER GROUND


This session will present the daunting challenges and exciting opportunities facing the country as we emerge from the pandemic, as well as prescriptions on how people managers can best fulfill their unique roles as stewards of people and their organizations.

HON. BERNADETTE ROMULO-PUYAT, Secretary, Department of Tourism


PLENARY ROUNDTABLE DISCUSSION 1:

ANGAT SA LAHAT: SUCCESS STORIES OF ORGANIZATIONAL TRANSFORMATION IN A PANDEMIC

The pandemic exposed both the vulnerabilities and the strengths of business organizations as they navigated the critical stages of survival, transition, and transformation! In this session, the CEOs of Philippine organizations share with us the stories of successful transformational journeys during the pandemic. What were the drivers of their transformation? How did they overcome the various difficulties? What lessons can they impart to others? This session can be a source of inspiration and wisdom for all!

Panelist:
MARTHA SAZON, President and CEO, GCash (Mynt-Globe Fintech Innovations, Inc.)
RAMONCITO FERNANDEZ, President and CEO, Maynilad Water Services, Inc., 2018 President Management Association of the Philippines
PRABHAKAR BISEN, Chief Operating Officer, Straive (SPi Global Philippines)

Moderator:
GRACE ABELLA-ZATA, DPM, President, CESI Group, CEO, IRCI Global Executive Board, 2009 PMAP President


SPONSORS AVP/SESSION BREAK

KEYNOTE SESSION 2:

ANGAT HR SYSTEMS: LESSONS AND PRESCRIPTIONS FROM THE GREAT (DIGITAL) MIGRATION


The Great Digital Migration was one of the most riveting phenomena that was spurred by the Pandemic as business organizations and people were compelled to shift to digital processes, allow customers to interact online, and provide employees work-from-home arrangements. Necessity is the mother of invention, but the digital migration offered valuable insights that we can all harness as we move to the next normal. Is the digital migration over, or will it be a recurring phenomena? How else can we make it painless for all? What are some of the best practices that can guide us?

COLIN BLACKWELL, CEO and Founder, Enablecode & Chairman of the HR Committee, Vietnam Business Forum
SESSION CHAIR: ENGELBERT T. CAMASURA, FPM, MBA, CEO, HRTX Inc.


PLENARY SESSION 1:

ANGAT PEOPLE EXPERIENCE: EMPLOYEE ENGAGEMENT PLUS IN THE AGE OF HYBRID WORK

The high-tech high-touch requirement in managing people continues to baffle many in the age of digitalization. Many organizations are shifting to more advanced digital platforms and introducing new technology-enabled work arrangements. But what about employee experience? What mechanisms should organizations put in place to ensure meaningful human interaction and engagement? In this session, we learn from visionaries who are driving their respective organizations' shift to digital processes while continuing to be renowned for being people champions!

EUGENE ACEVEDO

, Chief Executive Officer, Rizal Commercial Banking Corporation


SESSION CHAIR: CECILLE HUIDEM

, Senior Vice President Chief Human Resources & Administration Officer/Consultant, Malayan Insurance Company, Inc.


WRAP UP

(Creative integration)
Time
Activity

PLENARY ROUNDTABLE DISCUSSION:




The PMAP Awards represents a harvest of the best of the best in the area of people management in the Philippines. Who are the finalists of the various award categories for this year and what make them worthy of the honor of being held up as crème of the crop?

This session features the finalists of the following prestigious PMAP AWARDS

- People Manager of the Year and People Manager of the Year Public Sector

- Gawad Makatao and People Program of the Year Public Sector




-

People Program of the Year




in an interactive learning showcase.

LUNCH BREAK

CONCURRENT SESSION TRACKS

A

gility as strategy

N

obility in purpose

G

overnance-driven

A

ction-oriented

T

echnology-enabled

ANGAT PLUS
(Regional Learning Needs)

SPECIAL TRACK

CS 1

CS 2

CS 3

CS 4

CS 5

CS 6

ST 1

Beyond the Spotlight Career. Humanity. Resiliency.


Elevating our Purpose thru REgenerative Energy

INNOVATIVE ER STRATEGIES AMIDST A CRISIS

CEO PERSPECTIVE: DATA THAT SHOULD DRIVE HR

REIMAGINING THE FUTURE OF WORK WITH HR TECHNOLOGY

ORGANIZATIONAL NEUROSCIENCE: SETTING THE CONTEXT FOR INNOVATION AND AGILITY

THE ROLE OF HR IN STRENGTHENING GOVERNANCE IN TODAY'S DIGITAL ENVIRONMENT





A crisis brings out the best and the worst in people. But all stakeholders can come to the table to explore innovative strategies for mutual benefit, given the right principles, strategies, and competencies. This session tells us how to elevate ER to higher ground.


The CEO is HR's first customer. What people data matters most to a CEO? What keeps a CEO awake at night? How can HR build better partnerships with the CEO? This session is designed to make HR data analytics more relevant and valuable.




Technology is no longer just an option for HR delivery. In this session, we take a good look at technology that is shaping HR – now and the emerging future. This session likewise provides a framework for HR+ Technology synergy.




This session is a deep dive into neuroscience concepts with specific focus on work applications. How can we best develop critical competencies and unleash the potentials of our people using the science of the brain?




HR's role in governance has traditionally been associated with ensuring compliance rather than leading and managing governance. This session will help participants appreciate governance from a broader management perspective, and to improve functional contribution




DING DONG DANTES
Chairperson,
Aktor - League of Filipino Actor President and CEO, Dingdong®

ATTY. ANNETTE GOZON-VALDES
President
GMA Films

LOUIE SANGALANG
Managing Director
Kim King's Kitchen

Moderator:
CES ORENA DRILON
Filipino Broadcast Journalist


ATTY. ALLAN BARCENA
Assistant Vice President and Head of Corporate Social Responsibility (CSR) and Public Relations
Energy Development Corporation

Moderator:
MICHAEL GODINEZ, FPM
Chief People Officer
Ramon Aboitiz Foundation, Inc.
2021 PMAP Trustee




Panelists:


ATTY. JAMEA GARCIA
Vice President for Human Resources Alorica



RASHELLE CEJO


Vice President, Human Resources - Asia Reed Elsevier Philippines and Lexis Nexis Asia

Moderator:
HILDA CARDENAS
SVP, Global HR Director
FactSet Philippines, Inc.
2021 PMAP Trustee

MARIA NECITA "GIGI" GERONIMO
General Manager Crawford Global Business Center

Moderator:
MICHELLE GARCIA, FPM
Regional Director - Human Resources (Asia-Pacific)
Dexcom


Panelists:


DAVID GULLIVER GO
Chief Human Resources Officer
JG Summit Holdings, Inc.

FLOREN JOSEPH GONZALES
People Services Director Coca-Cola Bottling Investments Group at The Coca-Cola Company

JOE MERITTO BUOT
Chief Human Resources and Administration Officer, Maxicare Healthcare Corporation

Moderator:
ADITYA GUPTA
Director – Enterprise Accounts
Darwinbox


ROB RANCES, DDiv, CCMP, CSCC, CReC
Director – Enterprise Accounts
Darwinbox

Session Chair:
MARIA ALVA ESPIRITU
Talent Acquisition Supervisor
Del Monte Philippines, Inc.

MHYCKE GALLEGO
Head of Advisory Services
P&A Grant Thornton



Session Chair:


JEREMIE DUQUE- GOMEZ
HR Director, FDG International Corp.


CS 7

CS 8

CS 9

CS 10

CS 11

CS 12

ST 2

TRANSFORMING AND INNOVATING THE WORKPLACE WITH STRATEGY AND HEART

BENEFITS STRATEGIES AMID PANDEMIC-DRIVEN NEEDS

ADAPTIVE HR: THE CHANGES WE SHOULD MAKE TODAY

BEATING THE WAR FOR TALENTS THROUGH A POWERFUL EMPLOYEE VALUE PROPOSITION(EVP)

HYBRID WAY OF WORK IN THE NEW NORMAL

OCCUPATIONAL SAFETY & HEALTH (OSH) BEYOND COMPANY PREMISES: HOW TO EFFECTIVELY WORK FROM HOME

EMPLOYEE WELLBEING AND RESILIENCE IN THE TIME OF COVID19

There is no longer a one-size-fits-all definition for what is "Business as Usual". In this session, our speaker will share his insights on how HR can leverage the effects of 2020 to transform the workplace into an agile and exclusive space moving forward.
HR, Benefits and Total Rewards professionals are often challenged to strike a balance between employee attraction and retention with cost management. This task has become even more complicated with the pandemic. Lockton's benefits survey in the US would be a good reference to compare how local strategies compare with those of other employers. As the survey captures responses that reflect a full year of operations in the pandemic environment, the survey provides insights on how companies have addressed pandemic-driven needs that impact employee attraction and retention.
With a new set of challenges for HR and leadership, how should we respond? And how do our own lives fit in?


A new study from a global employee engagement company revealed that 88% of HR leaders agree that Employers seeking to prevent significant turnover, attract, retain and engage top talent must enhance their Employee Value Proposition to reflect what current and future employees seek in a work environment. This section will cover how to create a powerful Employee Value Proposition and how you can enhance your EVP so you can beat the war for talent by retaining your key people and attract best talents to join your organization.






Work is no longer confined to the office or the factory. And so are work-related health risks. What are the implications of the shift from occupational safety to public safety? What policies are impacted? How do we make the transition effective for everyone? This session will give us a clear picture of the challenges and the appropriate responses needed to make the transition.




Work has been constantly identified as the number one stressor by employees. The pandemic has added new dimensions that has reshaped employees' resiliency. As we fast-track the shift to employee wellbeing, it is imperative that we look at what we can do to help strengthen resilience as the key that helps employees manage stress, new workplace arrangements, conflicts and other challenges that come as a consequence of the pandemic and the next move to the new normal.




JEFFREY JOHNSON


Senior Vice President, Human Capital
Resource Management
Teleperformance Philippines




Session Chair:


JEREMIAH BONIFACIO, CHRP, MBA
Associate Director, People Advisory Services
SGV & Co.
SIMON GILLIAT
Partner Lockton Companies LLP Head of Employee Benefits Lockton International

Session Chair:
DR. JOCELYN R. PICK
Managing Director
Profiles Asia Pacific, Inc.
2021 PMAP Trustee


NICASIO L. LIM, DPM


SVP, Corporate Resources Group, JG Summit Holdings, Inc.

Session Chair:
SARAH TAPEL
Senior Assistant Manager
COCOGEN Insurance, Inc.

NORMAN S. GAYLOA


HR Director
Vertiv Singapore Holdings-ROHQ
Global Business Services and Philippines

Session Chair:
GILBERTO S. GATDULA
Senior Manager for TQM & Learning
Dusit Thani Manila

HARPREET KAPOOR
Partner Consultant,
PM Consulting

ALPHA AQUINO
Chief People Officer
Home Credit Philippines



Moderator:


ELIZABETH NASOL, DPM
SVP-HRMG
Energy Development Corporation
2021 PMAP Trustee

DR. GERARD SIO


Occupational Environmental Health and Safety Systems Operations Policies Programs Consultant Industrial Hygiene and Ergonomics Consultant

Session Chair:
RHEA GADDI
Individual Member

DR. AMITABH DEKA


Head of Wellbeing Solutions, South Asia and AON Care

Session Chair:
ARLENE MANTE, FPM
Deputy Head, Cebu
Aon Insurance & Reinsurance Brokers Philippines, Inc.


CS 13

CS 14

CS 15

CS 16

CS 17

CS 18

ST 3

CREATING AND STRENGTHENING YOUR EMPLOYMENT BRAND

THE ROLE OF VACCINATION IN PROTECTING EMPLOYEES IN THE WORKPLACE

MANAGING THE NEW HR RISKS

DIGITAL CO-CREATION AND THE POWER OF THE AI

BUILDING A TALENT OPERATING SYSTEM FOR YOUR ORGANIZATION

IS WORK-LIFE BALANCE STILL RELEVANT?

PMAP ENGAGEMENT COMMITTEE

The pandemic has highlighted the critical role of an employment brand during a crisis. Employment brand affects employee attitudes, productivity, satisfaction, and engagement. It is time to revisit the value of employment brands in the post-COVID era, and discuss strategies in strengthening your brand.


The list of risks that face the HR function has grown overtime, but specially so during the pandemic. Loss of productivity, increased costs, morale, regulatory penalties, medical disabilities, lawsuits, network and data security and privacy, theft, etc. etc. The list can be overwhelming. This session gives us a comprehensive picture of risk management as it applies to the HR function.


Co-creation is a process that happens between different people. You can develop the strategy, service, product, or organizational ways of working in a co-creative process. In digital co-creation, as the name says, the collaboration is done by utilizing the digital platforms. What are the key things in digital co-creation, how to invite and engage your employees to meaningful conversations, where to put your focus, how to build a digital co-creation process that makes an impact, and how AI can help you in sensemaking? We'll dive into the art of co-creation, and you'll get a hands-on experience of digital engagement.




As a result of COVID-19, CEOs of the world's most influential companies have identified Talent Risk as one of the most significant challenges to growth. In this session, we will address how organizations can bridge the gap between people strategy and business outcomes with technology, and create a Talent Operating System that will enable organizations to recruit, mentor, retain, and engage their future-ready workforce.

When the lines that separate work and life have become blurred, is work-life balance still relevant? What are the new frameworks that best capture the new challenges? This session aims to help HR think about how to maximize "work" and "life" and be able to identify and address symptoms when people are having difficulties.



THE IMPORTANCE OF CELLULAR HEALTH
(Tips on how to transform your health into a better state)

DR. GARY SAMUELSON
Atomic Medical Physicist
Founder
Cellular Health Coaching

RONALD MASCARIÑAS
President and General ManagerBounty Agro Ventures, Inc.

Session Chair:
MARK HERNANDEZ
HR & Admin Manager, South Pacific, Inc.
2021 PMAP Treasurer


RONTGENE SOLANTE MD
Infectious Disease Specialist
Pfizer Philippines

Session Chair:
LAWRENCE CO
Chief Learning Officer
Headway Learning and Consulting

NISHITH UPADHYAHYA
Head of Advisory
SHRM India




Session Chair:


MICHELLE ANGELI GUCE
FVP and Chief HR and Admin Officer
Malayan Insurance Co., Inc.

ULLA LUUKAS
Partnership Director
Howspace

PAULIINA VENHO
Customer Success Manager
Howspace

Session Chair:
JOSEPH CHRISTIAN LYTTLE REYES
Chief HR Officer
FEU- Dr. Nicanor Reyes Medical Foundation

Panelist:


RHIZALINE VARGAS
HR Director
TELUS International Philippines



Moderator:


SANDEEP CHAUDHARY
Chief Executive Officer
PeopleStrong



Panelists:
CANDY MAURICIO
Founder
CML Centre for Mastery and Lifelong Learning

VICTOR PRIETO
Head of Sales
Share Treats Innovation

Moderator:
ROBERTO M. POLICARPIO, FPM
2016 PMAP President

LOWER BACK PAIN MANAGEMENT AND HOW IT AFFECTS PRODUCTIVITY, CREATIVITY, AND FUNCTIONALITY IN THE WORKPLACE (From the lens of a Pain Management Expert who became a patient)

ED DELOS REYES, MD
Specialist in Pediatrics, Anesthesia, and Interventional Pain Management




Session Chair:


JANINE CARREON
Group Director for Corporate HR
Manila Water

REGIONAL HR ISSUES TRACK

CS 19

CS 20

CS 21

CS 22

CS 23

CS 24

ST 4

STRATEGIC PLANNING FOR FAMILY-RUN ORGANIZATIONS

BENEFITS THAT REALLY MEAN MORE

HOW HR CAN LEAD IN BUILDING SOCIAL ENTERPRISES

A SEAT AT THE TABLE: SUREFIRE STRATEGIES TO ENHANCE THE VALUE OF HR IN ORGANIZATIONS

TRANSFORM & DIGITIZED YOUR HR

ELEVATE VIRTUAL LEARNING EXPERIENCE

THE NEW MAGNA CARTA FOR HUMAN CAPITAL

(TO REPLACE THE LABOR CODE

)

Family-run corporations can have unique structures and values but like any other business organization. In this session, we will discuss how to navigate the often tricky business of balancing family needs and requirements vis-à-vis those of the business; and achieve effective integration.

Benefits have long ceased to be one-size fits all deals. Talent retention has given rise to innovative and often customized benefits that target desired outcomes. This session gives us a snapchat of the current trends in benefits as well as provides prescriptions on the sticky issues of implementation and evaluation.

People, planet, profit is a mantra that more and more business organizations are adapting. The pandemic has put HR at the head of the table. This session aims to push the envelope in terms of the critical role that HR can also play in transforming business towards becoming social enterprises.


HR creates value for HR in business organizations. HR needs to earn a seat at the table and then "lean in" to be heard and recognized as a strategic partner. This session aims to provide the tools and strategies that would help HR professionals achieve the goal of becoming a valued strategic partner.






Virtual learning can be made so much more fun, engaging, meaningful, and effective! This session walks us through creative and practical techniques of elevating virtual learning experiences!




The pandemic has illustrated painfully the gaps and frailties in the country's antiquated labor code. This session is a synthesis of the issues and challenges, and presents a framework that may be used in crafting a new Labor Code.




Panelists:


MARY GRACE DIMACALI
President
Mary Grace Foods, Inc.

GERARDO B. CABOCHAN
Managing Director, Pandayan Bookshop, Inc.


Moderator:
JO ANN ROSARY ASETRE
APAC Customer Success Manager
Lee Hecht Harrison




Panelists:


PAMELA DONATO
VP HR
Sitel Philippines

JAIME DE LOS ANGELES
Co-founder and CEO
Advance




Moderator:


GAY MARIE G. TIU
Chief Consultant
GET Training Consultancy Services

Panelists:


ROEL RAVANERA
Vice President, Social Development ClusterXavier University – Ateneo de Cagayan

FR. ANTON PASCUAL
Executive Director
Caritas Manila



Moderator:


GELIZABETH CABUHAT
Marketing and Branding Development Specialist
1CISP




Panelists:


ABELARDO CRUZ
Managing DirectorQualfon S.C.

HANS MONTENEGRO
Chief Operations Officer, IT Delivery Centers Asia
Manulife



Moderator:


GING L. IGUAL
Consultant
Willis Towers Watson




Panelists:


EDISON TSAI
Partner/Executive
SeedIn Technology



THOR TURRECHA
Executive Vice President for Global Software as a Service (SaaS)
MeldCX Pty. Ltd.

RACHEL KAIRUZ
Sales Executive Health, Corporate & Performance
Esports RK International

Moderator:
HOXTON RHEY ANAPEN
HR and Administration Lead
Wireless Services Asia, Inc.





JOVENIR BATAICAN
Managing Consultant
Ideas Central

Session Chair:
MA. PAZ V. MALUBAY
President
P&A Grant Thornton


ATTY. JOSEPHUS B. JIMENEZ, DPM
Former DOLE Undersecretary and 2014 PMAP President

Session Chair:
ROBERT NADONGA
Director of Operations – Philippines
Brookhurst Insurance Services, LLC
Time
Activity

PLENARY ROUNDTABLE DISCUSSION:




The PMAP Awards represents a harvest of the best of the best in the area of people management in the Philippines. Who are the finalists of the various award categories for this year and what make them worthy of the honor of being held up as crème of the crop?

This session features the finalists of the following prestigious PMAP AWARDS

- Employer of the Year and Employer of the Year Public Sector

in an interactive learning showcase.

45

th

PMAP Awards

LUNCH BREAK

Recap/Overview of Day 3

KEYNOTE SESSION 3:

ANGAT MALASAKIT - PEOPLE FIRST AS A VALID BUSINESS MODEL


People remain as any organization's most important resource or capital. Current realities have forced many business organizations to reexamine the philosophy although a number have successfully redesigned their business models around People First. Can the age-old Filipino value of Malasakit still find expression in business models? The speaker - a legislator, respected broadcast journalist, culture advocate, and community leader – will share her insights on how we can regain focus on people as main source of competitive advantage.

HON. LOREN LEGARDA, Deputy Speaker, Congresswoman, Lone District of Antique
SESSION CHAIR: SOCORRO Y. TUVILLA-SUAREZ, DPM , Managing Director, Corporate Transformation, Inc.


PLENARY ROUNDTABLE DISCUSSION 2:

ANGAT TAO: FROM WORK-LIFE TO WELL-BEING - INTEGRATING HOLISTIC PEOPLE ISSUES INTO THE DESIGN OF WORK


Proactive companies understand that the overall wellbeing of their employees is an important component of their overall risk management strategy. The pandemic has underscored the value of taking care of the overall health of employees and have put in place measures that foster a culture of health. In this session, we examine the shift from work-life balance to wellbeing and what it takes to achieve that shift. We will also examine strategies to improve health, performance and the bottomline and how these three can be integrated holistically to produce desired results.




AURELIO LUIS MONTINOLA, Chairman and CEO, Far Eastern University, Inc., 2021 MAP President
TIMOTHY LIONG, General Manager, Metalcast Corporation

MODERATOR: PRYNCESS HYACINTH ESGUERRA, Director of Human Resources, Robinsons Land Corporation, Holiday Inn and Crowne Plaza Manila Galleria


SESSION BREAK

TOWN HALL MEETING:

ANGAT PINOY HR: EMERGING MODELS FOR PHILIPPINE HR




Panelists:




GRACE ABELLA-ZATA, DPM

, President, CESI Group, CEO, IRCI Global Executive Board, 2009 PMAP President

ENGELBERT T. CAMASURA

, FPM, MBA, CEO, HRTX Inc.

CECILLE HUIDEM

, Senior Vice President Chief Human Resources & Administration Officer, Malayan Insurance Company, Inc.

SOCORRO Y. TUVILLA-SUAREZ, DPM

, Managing Director, Corporate Transformation, Inc.

PRYNCESS HYACINTH ESGUERRA

, Director of Human Resources, Robinsons Land Corporation, Holiday Inn and Crowne Plaza Manila Galleria

LUIS GIAN PAOLO O. MAPA

, Chief Learning Engineer in LinkOD – SeeWorthy International

Session Chair:




SCHUBERT CAESAR C. AUSTERO, DPM

, 2011 PMAP President, Chairperson, AC Programs Committee

CLOSING KEYNOTE:

ANGAT PILIPINAS: ISANG BANSA, ISANG ADHIKAIN - CHALLENGES AND PRESCRIPTIONS IN BRINGING THE COUNTRY AND FILIPINOS TO HIGHER GROUND


In the closing keynote of the conference, we bring to the surface our common dreams and aspirations for our people and our country as bases for inspiration, unity, and action. As in the past, the Filipino spirit can be a powerful force that can help move us to higher ground. In this session, we will reflect on the real-life experience of a catalyst for change that has enabled and ennobled other Filipinos to act. In the process, we hope to be able to inspire positive change in ourselves, in our own communities, business organizations, and country.

BRO. ALVIN BARCELONA, Inspirational Speaker, FEAST Builder
SESSION CHAIR: LUIS GIAN PAOLO O. MAPA, Chief Learning Engineer in LinkOD – SeeWorthy International



PLENARY: Key Takeaways

(Conference Resolutions, Conference Synthesis, Closing Ceremonies)
Kindly complete the form below to process your application
---


You may also visit the FAQs page
to know the answers to some of the frequently asked questions regarding this website
How to join the the Plenary and Concurrent Session:
Download the updated version of Zoom Client for Meetings for Windows and Mac computer by clicking the link below and follow the instructions.
Zoom Client for Meetings
Download
You may also visit this link to know how to join the meeting using zoom application, please
click here.
---
Setting up your zoom virtual background.
This will be available soon!
---
Don't know how to set your virtual background? Click the tutorial link below!
Tutorial on how to setup your virtual background in zoom.
---